2007 Sierra Expedition
West of the Minarets
---
After some more thinking, I've fixed on a new plan for the coming summer, with two options, depending on the weather and the bugs. The first option, and the one I prefer, is a remote and interesting area between the Minarets and the Yosemite Park boundary, part of the Ansel Adams Wilderness. We'd be packed in to Hemlock Crossing, at about 7,500 feet. From there, we'll take a variety of interesting day hikes. The second option is to follow part of the route Dan Vandersteen and I took in 2005, but take a different route for most of the hike.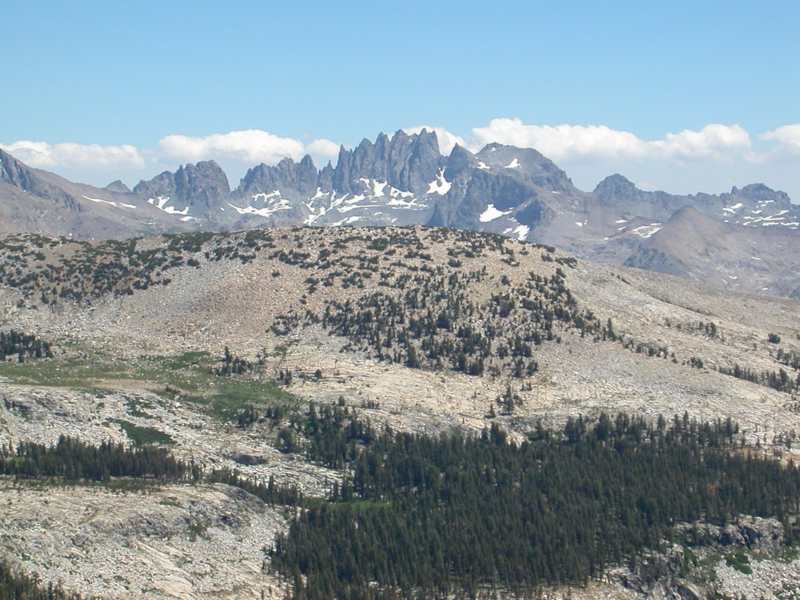 This picture is from the 2005 trip. The preferred plan will take us to the area between the ridge in the center and the Minarets in the distance.
I'd originally thought of going a week later than this plan shows, but the earlier week is better for those I heard from, and having a fallback plan allows for dealing with the weather. If it turns out to be a dry winter, we'll do the first plan, since it involves lower-level camping in an area that will be buggy if wet. If it's a heavy snow year,we'll do the alternate, and higher, route. As of April 4, Sierra snowfall for the winter is at 33% of average for this date. It's definitely a light snowfall year.
You can look over the area on Google Earth. The coordinates for Twin Island Lake: N 37 41 339, W 119 14 001.
The coordinates for Harriet Lake are: N 37 40 243, W 119 18 280.
August 4: Fly from Grand Rapids to San Francisco. Drive to Oakhurst.

August 5: We'll need an early start to take the Baysore Road deep into the territory south of Yosemite. Dan and I went this way in 2005. The Minarets Pack Station will haul our packs to Hemlock Crossing, by reports a good place to camp. We'll use it as a base camp for four nights.

Alternate: We'll be packed from the same trailhead (6970 ft.) to Sadler Lake (9362 ft.), where Dan and I camped in 2005. Night at Sadler Lake.

August 6: Day hike to Twin Island Lakes (9659 ft.), and do some general exploring and scrambling about the area. Night at Hemlock Crossing.

Alternate: Climb Sadler Peak (10,567 ft.), an easy climb from Sadler Lake. Night at Sadler Lake.

August 7: Day hike to Bench Canyon and Blue Lake (10,528 ft.). Night at Hemlock Crossing.

Alternate: Hike over Isberg Pass (10,480 ft.), then cross country to Harriet Lake (10,276 ft.).

August 8: Poke around. Night at Hemlock Crossing.

Alternate: Climb Foerster Peak (12,057 ft.). Night at Harriet Lake.

August 9: Hike from Hemlock Crossing to Cora Lakes

Alternate: Explore the Harriet Lakes area with some cross-country hiking. Night at Harriet Lake.

August 10: Explore Cora Lakes area Night at Cora Lakes.

Alternate: Hike over Post Creek Pass (10,280 ft.). Detour from pass to top of Post Peak (11,009 ft.). Night around Porphyry Lake (10,150 ft.).

August 11: Hike out, drive to airport. Celebratory dinner.

August 12: Leave for Grand Rapids
Here is a report of several hikes in the area:
Option 1 links:
Option 2 links:
Confirmed Participants:
Randy Bytwerk
Dan Vandersteen
Ed Van Beek
Possible Participants:
Bob Alderink
David Bytwerk
Tarek Challah
Henry DeVries
David Petersen
Rik Swartzwelder

---
For those who stumble across this page through a search engine, it's the planning page for a hiking group in Michigan. It is maintained by Randall Bytwerk (bytw2calvin.edu — replace the "2" with a "@").