Emigrant Wilderness: August 2012
---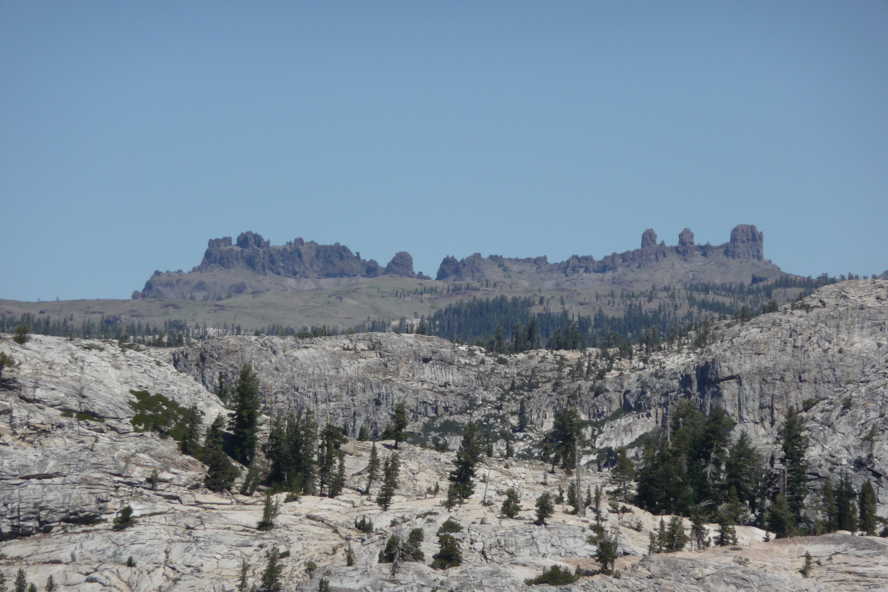 The Dardenelles
---
Sunday, July 29: The flight out.
After a smooth trip from Grand Rapids and a stop at REI in Dublin for last supplies six of us were soon at the Long Barn Lodge, where the last member of the party arrived. It's a good place to spend the night before heading out
Monday, July 30: Crabtee Trailhead to Pingree Lake
We arrived at the Aspen Meadow Pack Station in good time. I used to sneer at those who used packers, but as I've aged I find that not having to carry a pack the first day is worth the reasonable cost.
We had planned to have our gear hauled to Rosasco Lake, but as I heard the packers discussing things Pingree Lake caught my attention. Although it wasn't on their list for one-day destinations, the owner said it was possible. Since Pingree was our goal for the second day, I quickly accepted his offer of leaving our belongings there. That almost proved a problem....
The trail from Crabtree is pleasant enough, but we got confused in Louse Canyon. First, a Forest Service employee told us quite firmly that we had gone past the use trail heading up Louse Canyon. After some consultation, we decided she had to be wrong, and soon found the trail we were looking for where we expected it to be. But here we went astray. We went a bit too far up the canyon. Instead of the "Golden Staircase," the standard way up to Rosasco Lake, we ended up going over the next gap south. This was not a particularly serious mistake, although it took an extra half hour. Since we were fresh from Michigan and several of us in less than top mountaineering form, it was now getting a little later than planned. After surveying Rosasco Lake we were pleased not to be camping there, as camping looked at most adequate, so we headed off cross-country toward Pingree Lake. Alas, we hadn't entered GPS coordinates for Pingree and we ended up somewhat south of where we should have been — and got led astray by ducks that apparently led to Hyatt Lake. We realized our error — but it was getting toward early evening. After consulting maps, compasses, and GPS we figured out where Pingree Lake had to be, and finally stumbled into it after about a twelve-hour day. Our packs were waiting for us.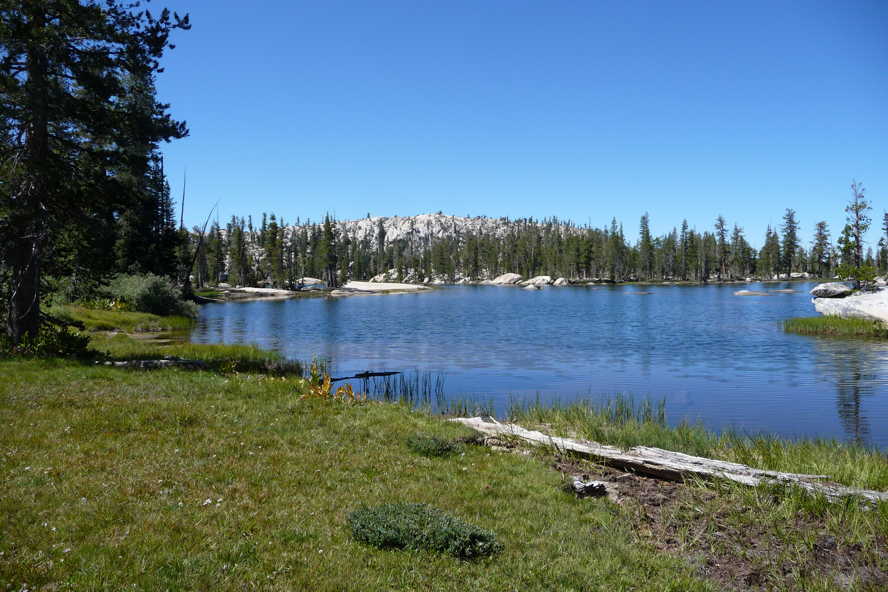 Pingree Lake
After a twelve hour day we had no more energy than it took to set up camp and get a fire going. And then at 7:30 something odd happened. Suddenly there was a sound like whining turbine. Whining turbines are unusual in the Sierra, and it proved difficult to determine the direction from which the sound came. After about 45 minutes it faded away and we were ready to sleep.
Tuesday, July 31:A stroll to Big Lake
No one was up for too much effort today, so we took the walk down to Big Lake. It's an easy walk down granite slabs, although we we went a tad to far to the west, which led to some bushwacking. Big Lake has a lot to recommend it as a base camp in the area. We headed back up to Pingree and enjoyed a relaxed afternoon.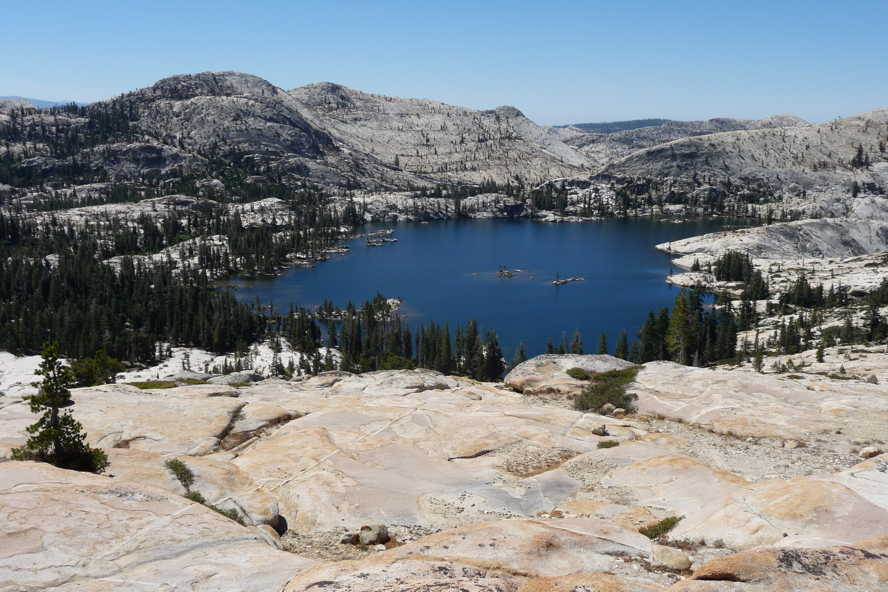 Big Lake
At 7:30 p.m. the turbine started up again. And we figured out what was happening. A cloud of insects was about 30 feet above us. They weren't mosquitos — mayflies, perhaps? I'd not had a similar experience in the Sierrab before. Again after 45 minutes, things quieted down.
Wednesday, August 1: Meeting at Red Can Lake
Two of my previous hiking companions had left a day before we did, heading out from Kennedy Meadow. We'd agreed to meet them at noon at Red Can Lake. We were 15 minutes lake, not bad under the circumstances. They were already there, having had a considerably longer several days of hiking than we had.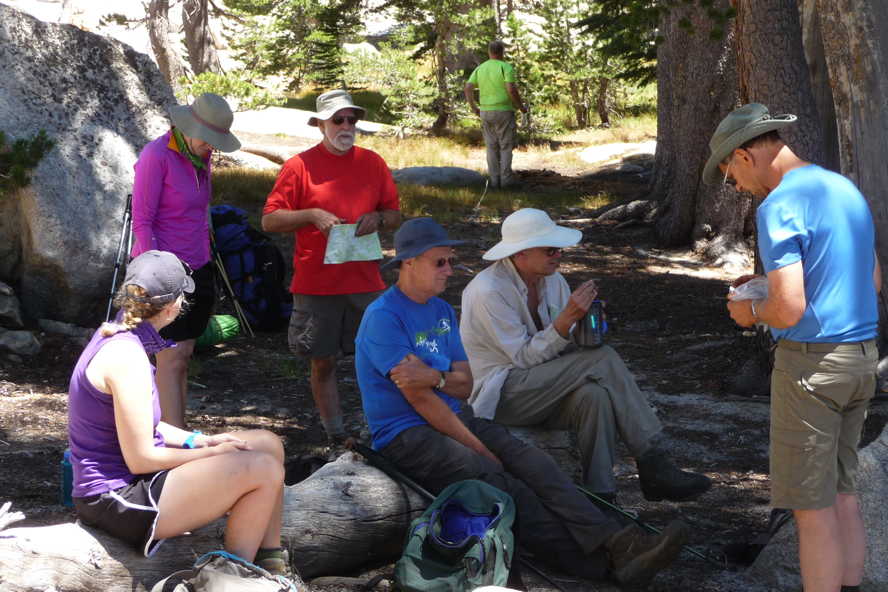 Meeting at Red Can Lake
Thursday, August 2: Kole Lake and a good view
Thursday we headed off to Kole Lake, a pleasant stroll with a variety of ducks along the way of uncertain origins. Just southwest of Kole is an easy ridge with great views of the Emigrant.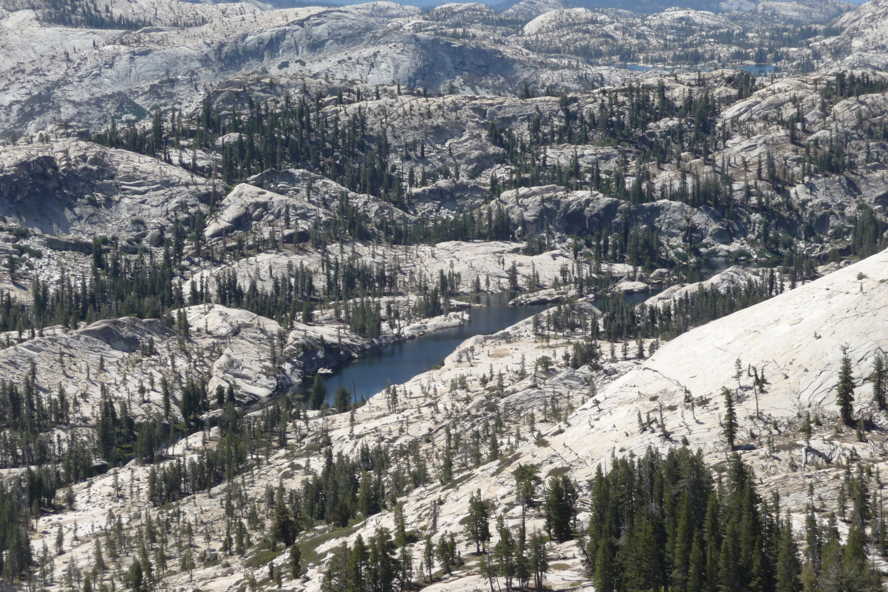 Yellow Hammer Lake from the Ridge above Kole Lake
After lounging about the top for a while we wandered around Kole Lake, then headed back to camp, after which several expedition members climbed the peaklet above Pingree. The whirring bugs made their usual evening appearance.
Friday, August 3: Grouse Lake
We headed out the packer trail to the main trail, then made Grouse Lake and the evening's camp in good time.
Saturday, August 4: Grouse Lake to San Francisco
Departure day, and the usual abrupt contrast between the Sierra and the rest of the universe. After a quick hike out we showered at Aspen Meadow and headed for our airport hotel, which we made in sufficient time to enjoy some strolling about San Fransisco.
---
Notes of possible use to those planning a hike in the area.
1. The packer trail to Pingree Lake is almost as good as a Forest Service trail. It heads south from the main trail about a quarter of a mile past the Gem Lake junction. If you're heading for Pingree or Big Lake, it's the way to go.
2. I recommend Aspen Meadow Pack Station. Their rates are reasonable and their service reliable.
3. Rosasco Lake is suitable for small groups, but our group of seven would not have been comfortable there from what we saw of it. It's also not the most scenic lake in the area.
Back to the Index Page
---
---
Contact: Randall Bytwerk (bytw2calvin.edu — Change the "2" to a "@")