The Humphreys Basin: August 2013
---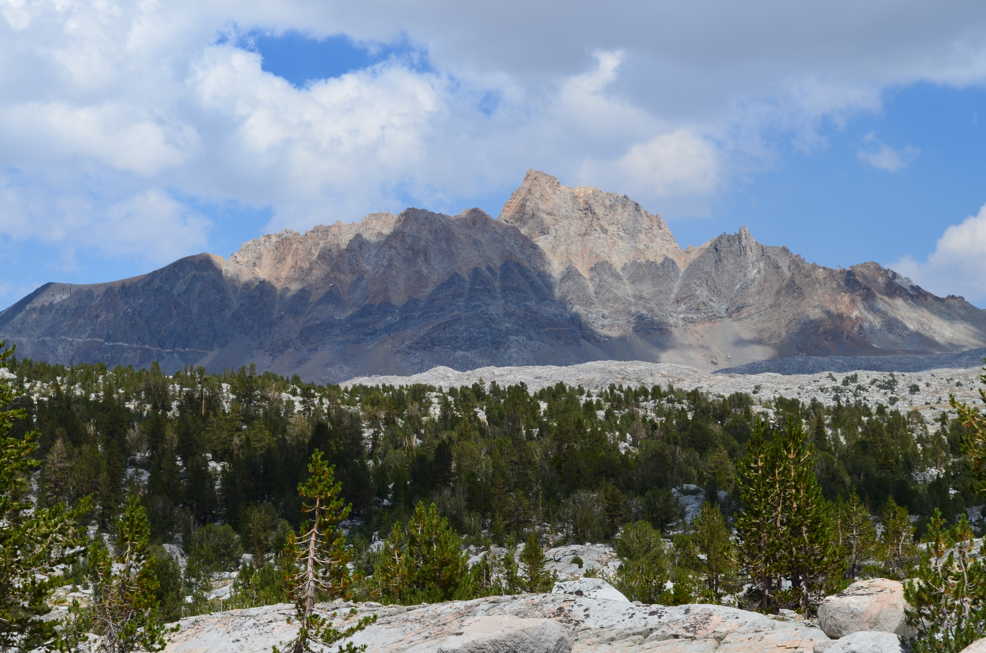 Mt. Humphreys
All photographs by Nick Hendriksma
---
Saturday, July 27: The flight out.
After a smooth trip from Grand Rapids and a stop at REI in Las Vegas for last supplies, we survived the drive to Bishop, where we stayed at the Bishop Elms Motel. I first stayed there thirty years ago when it was owned by a Dutch family. It has since gone through several changes of ownership and is now under (Asian) Indian ownership. I like the place. It's your old-fashioned motel, reasonably priced for Bishop in the summer.
Sunday, July 28: North Lake to Upper Golden Trout Lake
Since I'm now in my 60s and my hiking group is in the same range, we've usually had our gear hauled in by a packer, after which we were on our own. Last year around a campfire at Pingree Lake in the Emigrant Wilderness someone asked what it would cost to have the gear hauled out as well. "Twice as much as one way," I replied. No one seemed too distressed at that, so this year Bishop Pack Outfitters took the gear both ways. Although a packer is pricey, I've never felt the cost was unreasonable, given the challenges packers face (short season, lots of overhead). We dropped our gear off and headed up the Piute Pass trail at about 7:30 a.m., arriving to find our gear waiting at about 1 p.m.
The hike in was one of the most pleasant I've had in forty years of hiking in the Sierra — pleasant because there was no dust. Normally August is hot and dry. The standard line is that it doesn't rain in the summer in the Sierra. It does, of course, but the occasional summer showers are normally brief and refreshing. Not this year. The week before we began our hike, rain had been frequent, often in the middle of the night. The lightning started a number of major fires, of which more later. As we were heading in, we met a half dozen parties headed out, all with stories of rain. Their discomfort was our delight, since the trail was sufficiently moist to keep down the dust. Moreover, a week of above-normal rain did wonderful things to the wildflowers, which were blooming in far greater profusion than I expect in late summer.
I was slightly concerned as the clouds thickened as the morning went on. After we set up camp there were a few light sprinkles, followed by splendid weather for the rest of the week.
The campsite was excellent, with fine views to the east of Mt. Humphreys and of the canyon to the north. There was also a delightful stream to provide water.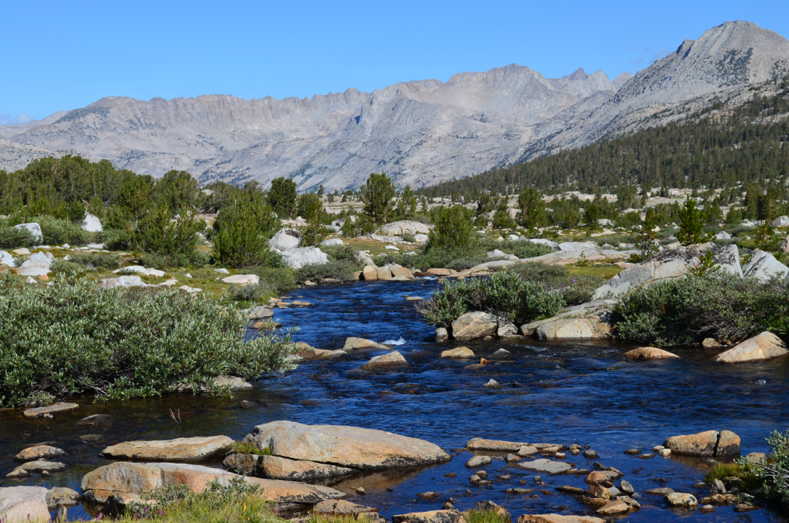 The Water Supply
We spent the rest of the afternoon enjoying the area.
Monday, July 29: The Desolation Lake Area
Since we were using a base camp, there needed to be enough interesting hiking opportunities to occupy us for five days. The first hike was up to Desolation Lake. The Humphreys Basin is sufficiently open to make cross-country hiking a delight. There are a variety of use trails, but as long as one knows the general direction one is heading, going too far astray is difficult. We headed north from the campsite, eventually finding the trail heading past Lower Desolation Lake and going on to Desolation Lake itself.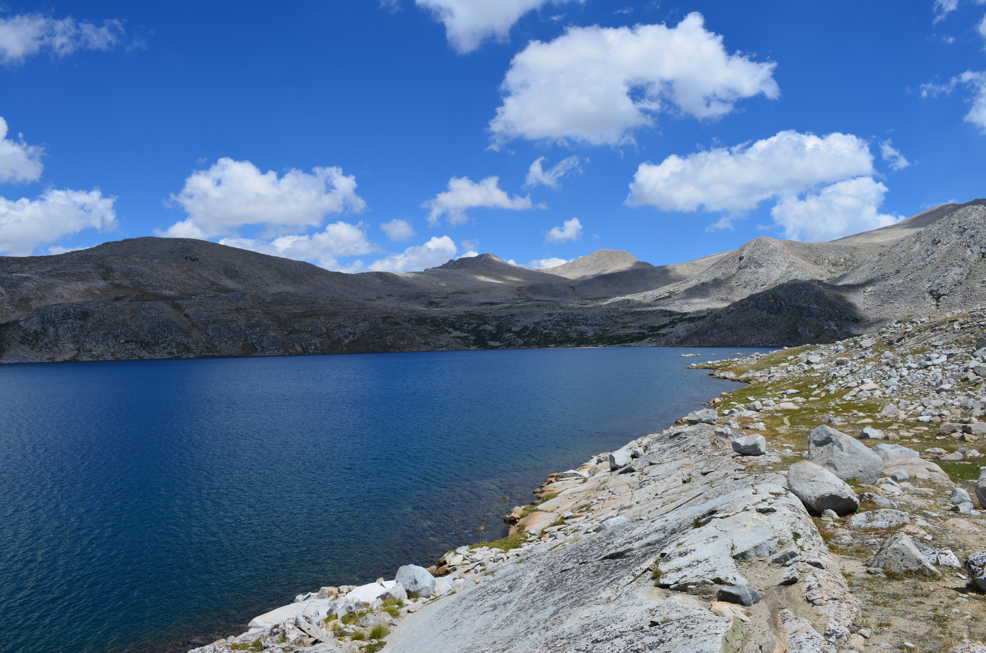 Desolation Lake
We met one of the Forest Service's excellent summer rangers at Desolation. I was surprised that he was coming down from Forsaken Lake. He recommended a field of flowers he thought worth a visit. I was content to admire Desolation Lake, but the other three members of the expedition headed up and found he was worth listening to.
Flowers at Forsaken Lake
The ranger was wandering about eliminating unnecessary signs of human presence, deconstructing large rock walls and removing trash. Although the Sierra is generally tidy, I am always surprised by what people leave. Near our campsite we found three empty tuna pouches. Hiking up by Desolation lake I found a large and ancient flattened tin can. The ranger had remarkable stories of junk left behind. As a normal hiker, one's load decreases as the hike goes on. Rangers tend to pick up enough trash to equal the weight of whatever they eat.
Tuesday, July 30: Packsaddle Lake
The packer had recommended a hike to Packsaddle Lake. We took his suggestion. We headed north around Lower Golden Trout Lake, making an "interesting" stream crossing not too far below a waterfall. We then headed in the general direction of Packsaddle, finding it with no difficulty. It's at the base of "Packsaddle Pass," a cross-country route to Evolution Meadow that I might have done thirty years ago — but no longer.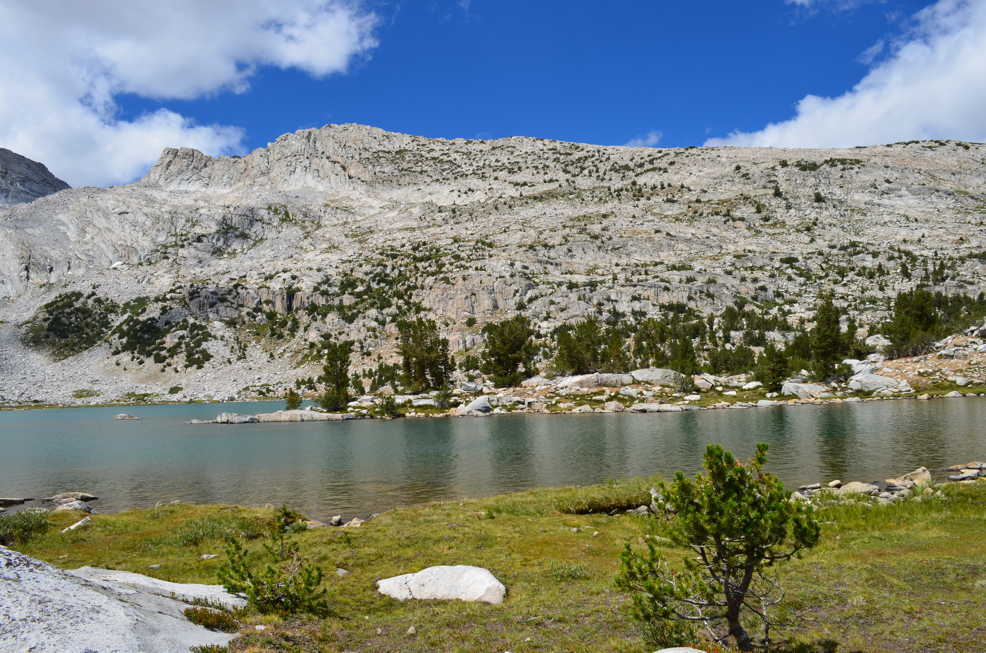 Packsaddle Lake
There was a campsite rather too near the water, used by those either going up or coming down from the pass.
We took a different way back, which was a bit challenging. We headed more or less north to the trail in the valley — by which point the stream coming out of Lower Golden Group Lake had split into four branches, each of which was full enough given the recent heavy rains to make crossing a challenge. Patience always found a way, however, and a little later than expected we arrived back in camp.
Wednesday, July 31: Muriel and Goethe Lakes
Twenty-five years ago I camped at Muriel Lake. With two kids along, we did not explore the area as much as we did this time. It was good to be back. Muriel is a large and lovely lake, and views of it are excellent as one heads up to Goethe Lake.
Muriel Lake
Getting to Goethe Lake requires hiking over extensive boulder fields. They are not too bad with a day pack, but backpackers heading for The Keyhole or Alpine Col had better like boulder hopping.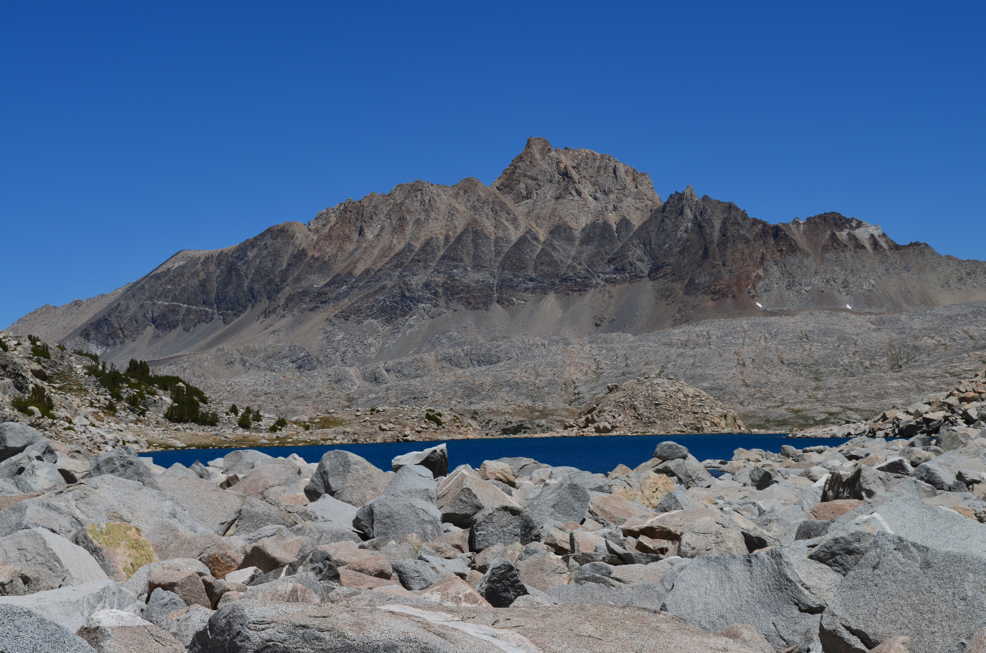 Boulder Fields near Goethe Lake
We headed back past Wahoo Lakes, attractive, but not enough to make us detour from the direct route back to camp.
That night, as every night, smoke was blowing over from a major fire on the far side of the Sierra. The haze was thick enough some nights to almost conceal Mt. Humphreys.
Thursday, August 1: Various Lakes and an Interesting Encounter
The initial destination for the day as Pilot Knob, but as we got close enough to see what we had to cover to get there we decided on less ambitious goals. On the way up, however, we came across a most curious gentleman, the court jester of the Sierra Nevada, perhaps. Professor Duane McDiarmid (Ohio University) is in the midst of artistic project supported by the U.S. Forest Service and Aldo Leopold Foundation.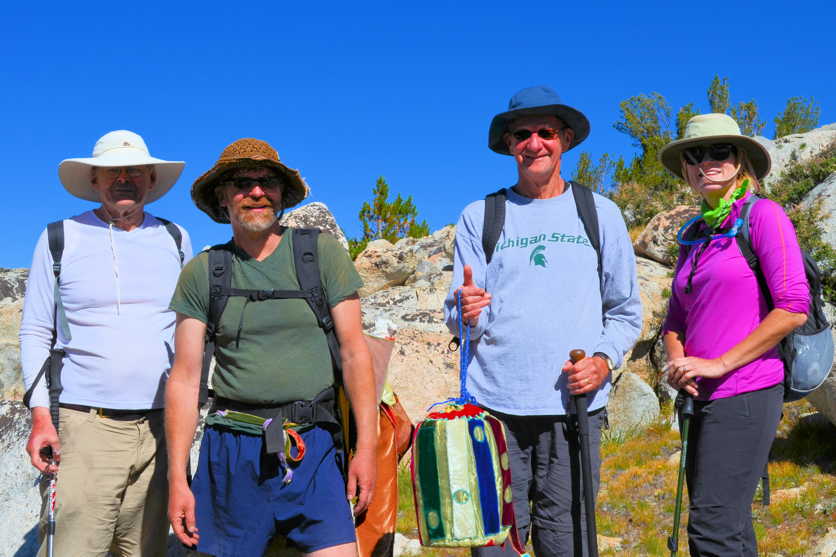 Duane McDiarmid (second from the left) among the Calvinists
He was wandering through the Sierra with a stupendous pack (about 80 pounds, he said), including three bear canisters. The one in the picture had chimes in it — to let the bears know one was coming, and since they didn't want to be circus bears, his amusing theory was that they would go elsewhere. Another had, apparently, an accordion. The third had food. He was only carrying the one with the chimes when we met. He is a fan of using tree leaves as toilet paper (not a bad idea, although at 11,000 feet in the Sierra Nevada pine needles night be less effective). A previous enterprise involved a solar-powered ice cream maker in the midst of the Nevada desert. The idea was to cause some pleasure, but also to suggest that perhaps we take too much with us into the wilderness.
We wandered about barren Mesa Lake, then over to Tomahawk Lake, which is definitely worth a visit. After a pleasant day of wandering about this high, open country, we headed back to camp.
Friday, August 2: Various Activities
I am usually less ambitious than my fellow hikers, so while the rest headed up the ridge to see if they could get to Paine Lake, I stayed in camp and devoted the day to reading and the study of my favorite Sierra bird, Clark's Nutcracker. There were several families of them in the area, and I, at least, found them of constant interest. They are hardworking birds, spending hours attacking the cones of white pines with steady effort. There are tasty seeds in the interior. They can store quite a number of seeds in their bill for later use. A single bird can bury nearly 100,000 seeds to get it through the winter. They seem to have good memories, but many seeds remain unretrieved, which helps spread white pines.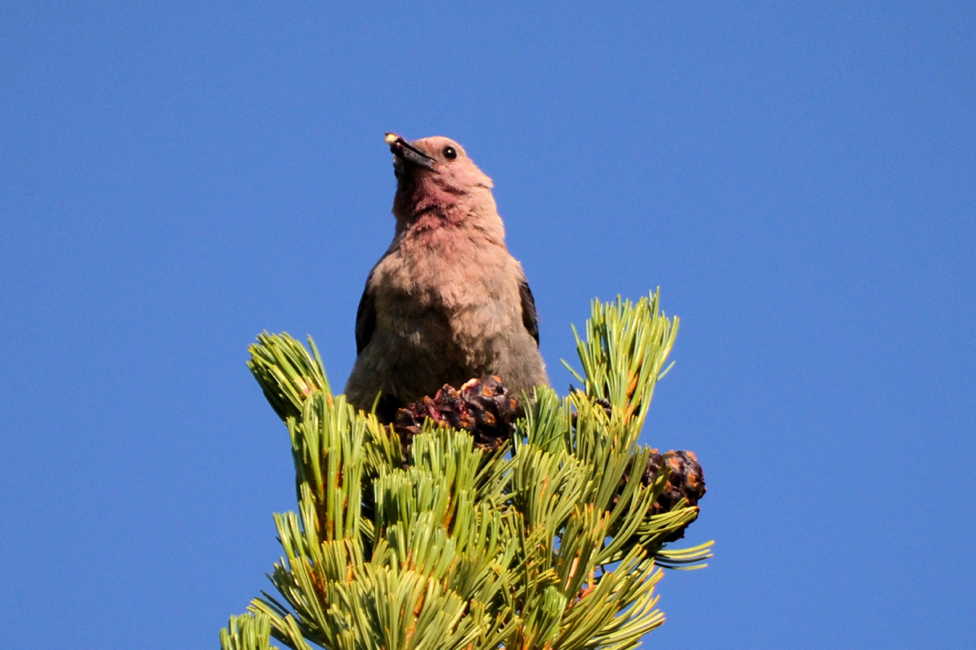 Clark's Nutcracker with Seed
The young were the size of the parents and quite capable of attacking a pine cone themselves, but were not quite eager to provide for themselves. They would follow the parents about pestering them with persistent squawking until seeds were tossed their way. Upon doing some research at home I learn that Clark's Nutcrackers are under stress in the West, given thespread of a beetle that kills their favorite source of pine cones.
Saturday, August 3: From 11,000 feet to Las Vegas
Like the hike in, the hike out was blessedly free of dust. The trail was still moist enough to keep it down. The disadvantage of being packed out is that we could get out faster than the packer could make a round trip, so we arrived at the trail head with several hours to wait. The first desire of a hiker after a week in the high country is usually a shower — which proved surprisingly difficult to find. Packers often have them available, but not this packer. The laundromat with showers in Bishop didn't open until 5 p.m. Several motels and a campground turned us down. For a reasonable fee, the friendly folk at the Bishop Elms Motel did use us shower in an unoccupied room. After retrieving our gear at North Lake he headed to Las Vegas, passing that most remarkable Deep Springs College along the way. We arrived later that evening in Las Vegas, where we spent the night before catching early flights back home.
---
Notes of possible use to those planning a hike in the area.
1. Many people going over Piute Pass are doing the classic North Lake to South Lake route (or sometimes exiting over Lamarck Col to save a day or two). However, there are enough day hikes to make Upper or Lower Golden Trout Lakes good base camps.
2. The area is above campfire levels. That didn't make much of a difference this time, since as a result of numerous wildfires throughout the Sierra campfires were banned throughout the range.
3. There is a lot of traffic through the area, and Upper and Lower Golden Trout Lakes are obvious camping spots for people coming from or going to Piute Pass. There are plentiful camping sites, but if you start looking late in the afternoon you may end up with a less than ideal location.
Back to the Index Page
---
---
Contact: Randall Bytwerk (bytw2calvin.edu — Change the "2" to a "@")

<