2013 Sierra Expedition:
The Mt. Humphreys Area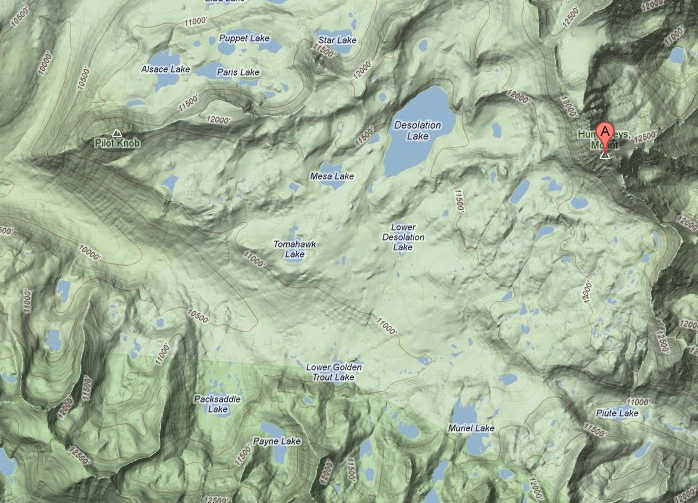 ---
The destination this year is the Humphreys Basin.We'll have a base camp between Upper and Lower Golden Trout Lakes, from where we'll be able to take interesting day hikes in all directions. If you do a Google Map search for "Mt. Humphreys, CA" you'll find the area. This is high country, mostly over 10,000 ft.
As resolved last year in the Emigrant Wilderness, we'll have our gear hauled both ways. This means no backpacks will be necesssary, and we'll be able to take in more luxuries than usual. Unfortunately, the area is above campfire levels — but it is a beautiful area I've been to years back, and have wanted to return to.
Although we won't be able to burn trash, the packer will provide appropriate trash containers.
July 27 (Saturday): The best place to fly to is Reno, but fares to there are sometimes high. Las Vegas is cheaper — but a longer drive. We'll see how fares look as time passes. Drive to Bishop. I'll find a motel there.
July 28 (Sunday): We'll be packed in from North Lake over Piute Pass by Bishop Pack Outfitters.
July 29 (Monday): Day hike
July 30 (Tuesday): Day hike.
July 31 (Wednesday): Day Hike
August 1 (Thursday): Day hike..
August 2 (Friday): Day Hike
August 3 (Saturday): Hike out, night near the airport.
August 4 (Sunday): Fly back to Grand Rapids.
Links:
A 2004 trail report (I assume we'll have better weather).

We might climb Pilot Knob.
If you use Google Earth, enter "Mt. Humphreys, CA," and you will be in the middle of the area.
Confirmed Participants:
Randy Bytwerk
Assorted Hendriksmas (2 or 3)
Dan Vandersteen
Possible hikers:
Ed Van Beek (if he can put up with being above campfire elevation)

Shirley DeJonge
---
For those who stumble across this page through a search engine, it's the planning page for a hiking group in Michigan. It is maintained by Randall Bytwerk (bytw2calvin.edu — replace the "2" with a "@").