2015 Sierra Expedition:
North Lake to South Lake with Llama Assist
---
The 2015 hike will be from North Lake to South Lake, through the Evolution Valley. It's one of the classic Sierra hikes. Given the success of last year's expedition across Northern Yosemite, I've booked six llamas from Potato Ranch Llama Packers to help us along. With good fortune, we'll get Tux again.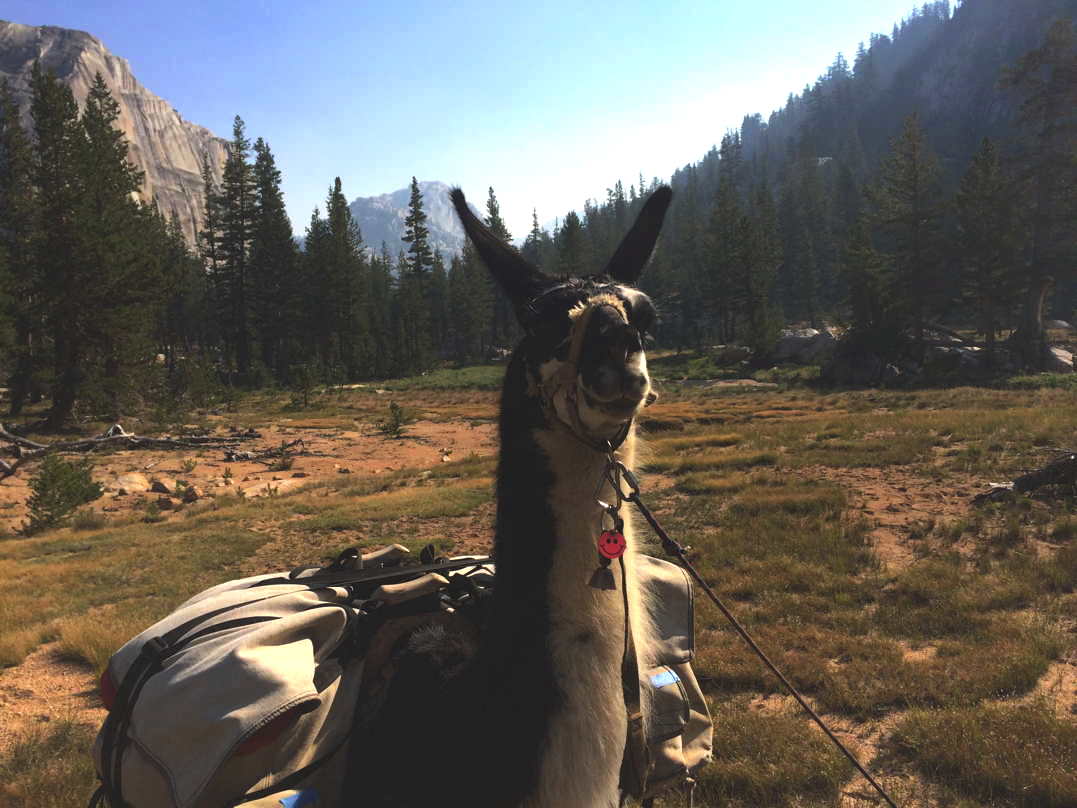 Tux, the Admirable Llama
More details will follow, but here's the outline.
July 25 (Saturday): Fly to Las Vegas, Reno, or Los Angeles. I'll keep an eye on fares. Night at the Bishop Travelodge. I've reserved three rooms. Since we have four experienced llama packers, we won't need the training we got last year. That does mean we will need to be prepared to load the llamas at the trailhead. I'm asking the packer for two bear containers.
July 26 (Sunday): Enter at North Lake after spotting a car at South Lake. We'll camp somewhere around Golden Trout Lake, familiar from our 2013 hike.
July 27 (Monday): Hutchinson Canyon
July 28 (Tuesday): Hiking
July 29 (Wednesday): Evolution Valley
July 30 (Thursday): Layover day
July 31 (Friday): hiking
August 1 (Saturday): hiking
August 2 (Sunday): Dusy Basin
August 3 (Monday): Exit the Sierra at South Lake, drive to airport.
August 4 (Tuesday): Fly back to Grand Rapids.
Links: Here are a few links from people who have done the hike.
If you use Google Earth, enter "Evolution Lake, CA," and you will be in the middle of the area.
Confirmed Participants:
Randy Bytwerk
Jane & Nick Hendriksma
Dan Vandersteen
Probable hikers:
David Bytwerk
---
For those who stumble across this page through a search engine, it's the planning page for a hiking group in Michigan. It is maintained by Randall Bytwerk (bytw@calvin.edu).